The last transition for the business occurred in 1992 when the inventory was moved to its current Whitehouse, NJ location. The stock is more organized than ever and is still in the capable hands of the Nowell family. The Downtown Stamp Company has amassed over 900 stock books and over 150 file cabinet drawers of both mint and used worldwide stamps, We are truly Want List Specialists......Give us a try!
The Downtown Stamp Company was founded by Rudolph Nowell in 1926 in Downtown Newark, NJ. Years earlier he had been building a stock and dealing in stamps out of his mother's house in Newark while he was an accountant on Wall Street. In 1926 Rudy decided to devote all of his time to his own business---stamps. The close proximity to New York City allowed Mr. Nowell to supplement the inventory by successfully bidding in philatelic auctions and by buying dealer stocks. When the famous Nassau Stamp Company of New York was sold, the Downtown purchased the entire stock of foreign stamps.

Rudolph Nowell (r.) and younger brother, Johnny. circa 1948
The business flourished in Newark for 66 years in five different stores as it grew from a modest shop to a formidable holding of stamps. In fact the last Newark location of 48 years, 44 Academy Street, became fondly known as "The Archives" to serious stamp collectors. Stock books, auction lots and collections adorned the 12 feet high walls. Old globe lamps hung from the ceiling, adding to the ambience. A collector could pull up a stool to the counter and enjoy the banter ranging from stamps to politics while shopping for anything from common stamps to philatelic rarities. And yes, the long time collectors from the "old country" would sometimes be treated to a shot of whiskey!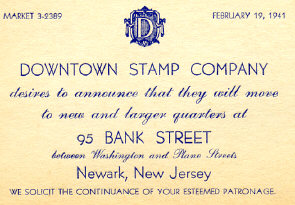 Approval cards showing our 5 addresses
44 Academy Street - 1944 thru 1992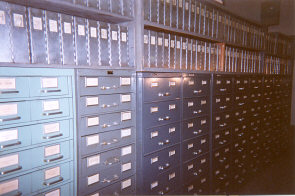 A peek at our vast inventory at the current location
Downtown Philatelic Memorabilia